At the Top of Your Wishlist Member
Quickly and easily create a membership site in WordPress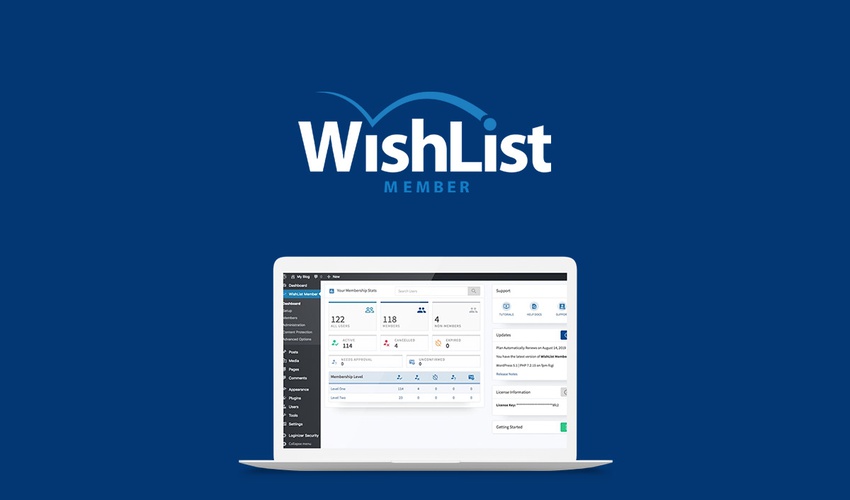 Wishlist Member : Subscription models have been around for a long time. (Yes, I still get National Geographic delivered to my house, and what about it?)
Now, with everyone relying on the Internet to find fresh and unique content, membership sites are more popular than ever.
The only downside: there's no easy way to turn your WordPress site into a full-blown membership site.
Actually, there is. Meet WishList Member.
TL;DR
Create a membership site with an unlimited number of levels, each with its own unique access options
Protect members-only online content and ensure proper access in a few simple clicks
Integrate your membership plans with payment providers, email providers, and more
Best for: Entrepreneurs, web developers, and agencies that want to create a membership site for premium content
WishList Member is a plugin that transforms any WordPress site into a full-fledged membership site with protected online content.
So you've got a great idea for a membership site, and you've even started creating some of the exclusive digital content that you plan to offer. Now what?
WishList Member helps you get started with its convenient set-up wizard.
The set-up wizard takes you through how to create different membership levels with complete control over settings for each level.
Start creating your membership site by identifying different membership levels.
Paying members want to feel special, and they are paying for access to content that isn't available to just anyone.
So once you've created different membership levels, you can use WishList Member to deliver exclusive content for each level.
The plugin makes it easy for you to protect content published on your WordPress site by specifying which membership levels have access to everything from pages, posts, comments, files, folders, and custom post types.
Restrict access to content by specifying which membership levels have access to which content and files.
WishList Member also makes it easy to update member information (contact information or passwords) in just a few clicks.
You can also manage access privileges for each member to ensure that they get access to the content they are paying for.
With WishList Member, you can take control of the user experience by managing things like levels of password security and email opt-ins.
Quickly and easily update user information and manage individual access for each member.
Delivering exclusive content is great and all, but what about getting paid? (Show me the money!)
WishList Member makes the payment process easy as it integrates with your favorite payment processing providers like PayPal Checkout and Stripe.
In just a few minutes, you can be on your way to getting paid for your membership content.
WishList Member also offers integrations for various email providers, allowing you to stay connected with members and deliver content right to their inbox.
Quickly accept membership payments through integrations with popular payment providers.
User experience is everything when it comes to membership programs, and WishList Member makes it easy to personalize member experiences.
To create a positive experience from the start, build a stylized log-in screen that matches your brand's vibe.
Browse through the available log-in page templates or create your own for a log-in screen experience that's as aesthetically pleasing as it is welcoming.
Create a customized login screen to improve the member experience.
Isn't it about time you brought your great membership idea to life?
No need to call Dr. Frankenstein because you've got WishList Member. (And also, he is a fictional character…)
WishList Member is here to power your membership site, course, or online community by helping you protect members-only content while offering your members a great user experience.
PLANS
STACKS